March 27, 2011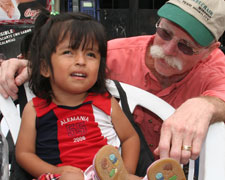 Don Schoendorfer has been part of Mariners Church in Irvine, CA for many years. Compelled by the congregation's strong emphasis on service, Don, an engineer, volunteered as a tutor at the church's "Lighthouse Center," an after school program in a low-income Hispanic neighborhood. He participated faithfully for over three years, but wondered if there wasn't a better use for his talents. "These kids didn't need help with differential equations and higher math," Don explains. "They were struggling with their multiplication tables." He felt he could invest his 25+ years' experience as an engineer in something more strategic.
During this "searching" phase, he recalled an experience from many years before, on a trip to Morocco. There he saw a disabled woman crawl across a dirt road. The disturbing image had never left him. He thought, "I wonder what the wheelchair situation is around the world?" He began to "poke around," researching the question. Don was stunned to learn that an estimated 100 million disabled people in the developing world lack adequate mobility.
Thus Don confronted a classic engineering-type challenge: How could a wheelchair, adequate to the demanding environmental conditions of underdeveloped countries, be produced at a price low enough to make millions of them affordable to those who needed them? And so the Columbia- and MIT-trained Ph.D. bought a bicycle and some white plastic lawn chairs at one of Southern California's big box superstores. After "tinkering in the garage" for several weeks, Don had constructed a sturdy, usable wheelchair. Now he needed to find a partner who could help him think through how to test out his model abroad. So he emailed Mariners' (then) Global Missions Director, Skip Landry, and requested a meeting.
He and Skip gathered in the church parking lot, where Don nervously unveiled his creation. Skip got into the chair. "I was crossing my fingers that it wouldn't collapse on him," Don admits with a laugh. "So he roamed about the parking lot in it and some people walked by and said, 'That would be a great chair for people in the developing world.' It was spontaneous, you know? And Skip looked at me and said, 'Let's do this. Let's make it work.' And that was the breakthrough."
Laurie Beshore, Mariner Church's outreach pastor, who'd known Don through his involvement with Lighthouse, got enthusiastic about Don's invention. Instead of being dismayed with him leaving Lighthouse, she connected Don to Mariners' next missions trip—to India—and helped Don convince the trip's somewhat reluctant leader to allow Don to bring along four of his wheelchairs.
The trip was life-changing. When a poor Indian family in a rural area received a chair from Don for their disabled son, they went wild with thanks and joy. A small crowd gathered by their home to see what was happening. Don turned to the Indian evangelist, Moses, who was serving as director of the short-term team.
I said, "Moses, I did my job. Now it's your turn." And he looks at me like "what do you mean?" I said, "I'm an engineer. I brought the wheelchair. Now tell them why we are here. I see you've got a Bible in your pocket. Tell them why we are here." So he opens the Bible and started reading to them. I think the thing that was so startling to him and all of us was that everyone paid attention, word for word. They were just hanging on every word.
"That was the turning point for me," Don says.
From that moment, he realized God was calling him away from his comfortable job to the risky adventure of providing mobility to the millions of poor, handicapped residents of the Third World. With much encouragement and prayer from Laurie Beshore and other Mariners' staff, Don launched Free Wheelchair Mission in 2001. The nonprofit has now provided nearly 600,000 chairs in 81 countries.
Mariners leaders may have missed Don in the tutoring program, but they were committed to this servant finding the best place to serve. They gave Don freedom to use his gifts strategically, and instead of feeling threatened by his desire to launch his own nonprofit, they enthusiastically supported it. Skip Landry encouraged Don to place one of his wheelchairs in the church's bookstore, which sees a tremendous amount of foot traffic each weekend. The exposure was extremely helpful, as church members became volunteers and board members. "Free Wheelchair Mission sort of grew up under the wings of Mariners," Don says gratefully. "I don't think we'd be here without them."