August 14, 2012
By Kelly Givens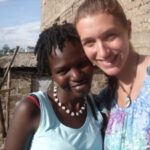 Art has always been a gift and passion of Kaylie Sauter's—as a child she grew up exploring all sorts of art mediums, eventually studying art at Houghton College, broadening her understanding through her classes and a study abroad trip to Tanzania. It has only been a few years since Kaylie graduated, but already God is using her artistic gifts to help advance His Kingdom values of beauty, hope and healing.
In June 2010, Kaylie attended a seminar at the BuildaBridge Art Institute in Philadelphia. BuildaBridge is a non-profit arts education and intervention organization which engages in the arts to bring hope and healing to children, families and communities in tough places of the world. During this five-day event, Kaylie learned of an opportunity to use her artistic skills in Nairobi, Kenya.
The international side of BuildaBridge focuses on bringing healing to communities affected by cultural and religious conflict, environmental catastrophe, poverty, illness and social injustice. Staff explained to Kaylie that the way BuildaBridge accomplishes this is by offering therapeutic art programs. Kaylie, they said, could use her artistic skills in Nairobi to work and play with children who have experienced life-altering trauma. This call to serve was in a place far from home, but, Kaylie says, before that morning meeting was over, she knew she "wanted to be a part of what God was doing in Kenya."
For over a year now, Kaylie has taught a children's art class every Saturday in Nairobi's Mathare slum. She has also mobilized local artists and art camps, and developed blogs and websites involving the arts in Kenya. Currently, she is preparing for the 5th annual Diaspora of Hope Art Camp. This art camp allows the children Kaylie teaches, as well as many others, to participate in art lessons involving drama, dance, poetry, and mural painting.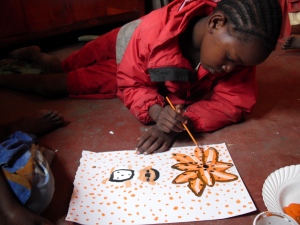 BuildaBridge's philosophy is that art is "restorative." When we create art, Kaylie explains, we are bringing "external expression of an inner reality." The children in the art programs are able to express through art what they might not otherwise be able to explain–thereby helping them work through traumatic events and hardships they have faced. One example of how Kaylie and her team have done this with children in Nairobi's slums is through classes that address the concepts of good and evil. She recalls a pottery class she taught, where she had her students talk about the ingredients of the clay and how they mix together. "We discuss[ed] what is good and bad inside of ourselves, likening it to how there is a variety of different ingredients all mixed up into one mass of clay."
The God of the Bible is a God who delights in beauty. God-given artistic talent can be stewarded to showcase this attribute of God, and can be used to advance the healing and hope our loving Savior has for children worldwide. Through her vocational stewardship, Kaylie Sauter has brought a foretaste of this to "the least of these" in Nairobi.