January 01, 2012
by Kelly Givens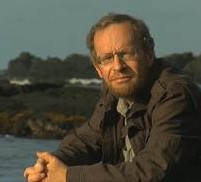 Not many children dream of being a glaciologist when they grow up, studying and interpreting ice cores and dissecting the science behind climate changes. And yet, Richard Alley, professor of geosciences at Penn State University, has clearly found his calling doing just that. Alley's personality—sanguine, comical, musical—contrasts sharply with his vocational field—studying the often disheartening effects of human waste and excess on our planet. Heavily quoted and renown as one of the "foremost glaciologists of all time," Alley has contributed his knowledge and research in geology, hydrology, ice physics, paleoenvironmental sciences and climate change—particularly the role of ice on the Earth's climate.¹ More than that, however, Alley is committed to sharing his findings with others in order to spur changes in the way we care for God's creation.
In the early nineties, Alley discovered something that would propel him from merely studying and teaching climate change to personally crusading for environmental stewardship. During a field study in Greenland, Alley and his team discovered a two-mile long ice core, pulled up from the center of the country. It contained air bubbles that revealed what the Earth's atmosphere was like around 100,000 years ago. The takeaway for Alley was disturbing. The core showed that at one point, in as little as 10 years, the climate of Earth changed drastically. For him, this proved that climate change was not only a reality, but one that can happen in an incredibly short time. The effects of such rapid climate change are debated, but Alley believes that if we don't change the way we operate, humans will be responsible for increasingly negative consequences. Even more, these consequences will be felt most particularly to those living in hot places or places closest to the poles—i.e., people who are typically poor. The issue, therefore, is not only ecological but also sociological.
As Alley unveiled his findings on the ice core, colleagues, journalists and even politicians began both questioning his work and seeking him out for answers. This prompted Alley to write a book on the Greenland ice, and also opened the door for him to serve on various committees and councils related to climate change. Most recently, Alley hosted the PBS series Earth: Operators Manual. The series aims at presenting an "objective, accessible assessment of the Earth's problems and possibilities that will leave viewers informed, energized and optimistic."² The show veers from the typical "doom and gloom approach to climate change," instead, focusing on the many viable, sustainable energy solutions we are discovering but only beginning to utilize.
Through his vocation as a professor and scientist, Richard Alley promotes the Kingdom value of creation care. He has committed his life to teaching others the consequences of our poor environmental habits while ever-optimistically pointing to solutions within our reach. In an interview with National Public Radio (NPR) Alley discusses how climate change is not just an issue for scientists, but for theologians as well. NPR host Michele Norris discussed with Alley his reaction to scientist Michael Griffin, who said that it is "arrogant" to try to slow or prevent climate change.
Michele Norris: "Now, Griffin acknowledged that science has pretty well nailed down the conclusion that much of the climate change is due to human behavior, is caused by humans. Are we, sort of, tiptoeing into the realm of philosophy of theology, the tension between dominion over Earth or that question of whether it is ours to question why?"
Alley: "If we aren't, I think we should be. Energy systems, the climate in which we live, how we get along with ourselves are such big questions that it would be the height of arrogance to leave them to no one but the scientists and the engineers. I certainly hope that the philosophers and the theologians are thinking about these too."³
Through his commitment to his work, Richard Alley has brought much attention to the importance of caring for our world, as well as bringing a refreshingly optimistic, hope-filled view of how we can solve the problems facing our plant.
______________________
¹"Richard Alley, Evan Pugh Professor and Professor of Geosciences, Penn State University" Science Concepts in Context- Researchers. http://passporttoknowledge.com/scic/greenhouseeffect/researchers/richardalley_bio2.html. Accessed Aug. 8, 2011.
²"About the Program," Earth: The Operators Manual. http://earththeoperatorsmanual.com/about_the_program, Accessed Aug. 8, 2011.
³Harris, Richard, "Three Views on Global Warming," NRP.org, May 14, 2004.